News Roundup 27 Nov
Subscribe
Subscribe - news & resources

News Roundup 27 Nov
CIF Research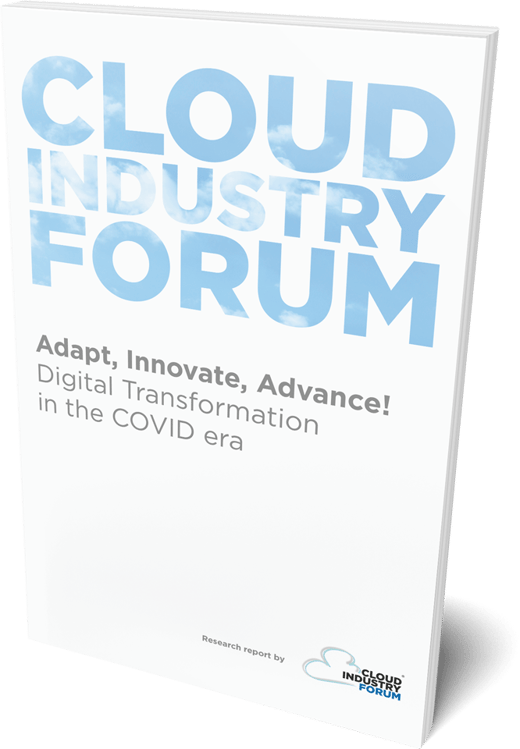 Adapt, Innovate, Advance!
Digital Transformation in the Covid era
The cloud delivered for over 90 per cent of UK plc when tackling the challenge of COVID.Cloud Industry Forum research finds that COVID put the Cloud to test and it passed with flying colours.
Find out more and Download Today.
CIF Talks
If you did miss the opportunity to be part of the conversation on our Live Chat on our research findings along with CIF CEO & Chairman it is now available On Demand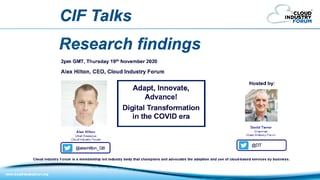 Latest Industry News
Latest in the Cloud
Research reveals impact of pandemic on digital transformation. By Ancoris.
The events of 2020 have stress-tested our business and operating models in ways we didn't plan for. According to the latest industry from the Cloud Industry Forum, 69% of organisations have sped up their digital transformation plans in some ways as a result of the pandemic.
The good news is that our infrastructure has held up remarkably well. Cloud technology formed an important part of the response to the pandemic for more than 90% of decision-makers and some 40% described cloud's role as critical.
CIF Cloud Events and Webinars
More from the Industry
CIF Talks: Cyber Security Considerations - Working From Anywhere! #WFA - CIF | Ramsac
Join CIF CEO Alex Hilton with guest Rob May, MD of Ramsac, IT management solution provider, as they discuss the cyber security considerations of working from anywhere.