News Roundup 1 April
Subscribe
Subscribe - news & resources

News Roundup 1 April
Latest Industry News
Latest in the Cloud
CIF Blog
30 million worldwide acquire digital skills during COVID-19. Microsoft and LinkedIn launch next stage to help job seekers and employers move to a skills-based economy.
Microsoft Corp. on Tuesday announced it has helped over 30 million people in 249 countries and territories gain access to digital skills, topping its initial goal of 25 million last June, and is extending the company's commitment to help 250,000 companies make a skills-based hire in 2021.
Cloud Events and Webinars
The Cloud-Powered Hybrid Workspace | 13 April'21| 4pm & OnDemand
Member event: Cloud Industry Forum members meeting | 14 April'21 | 10am - 12pm
Digital Transformation: De-Risking Your Data Migration | 15 April'21 | 11am & OnDemandBuilding a robust Cloud Security posture with a Microsoft First approach | 22 April'21 | 11am & OnDemand
20th Episode Special: Celebrating the Power of Digital Transformation | 22 June'21 | 4pm & OnDemand
More from the Industry
Webinar | Defining Your Remote Working Strategy
In this episode of CIF Talks we explore how our working environment is changing rapidly. Did you planfor it? Was you ready to embrace the changes? As we optimistically push through the pandemic, businesses still need to continue to plan ahead and their IT strategy needs to be at the heart of this and we explain how.
Cloud Industry Forum | IDC| Ensono | Microsoft
---
Webinar | Unlocking the Data Economy with the Power of the Cloud: Strategies for Success
The data economy is estimated to be worth between $118bn and $164bn in Canada alone so in today's digital age it's essential that businesses set themselves up as players in the data economy. To be successful within this task it's worth looking at how cloud powers and in the episode of DT in Action we share how organisations can mek the most of the data economy with cloud solutions.

Cloud Industry Forum | Ancoris | Cobweb | Matillion
---
Industry Research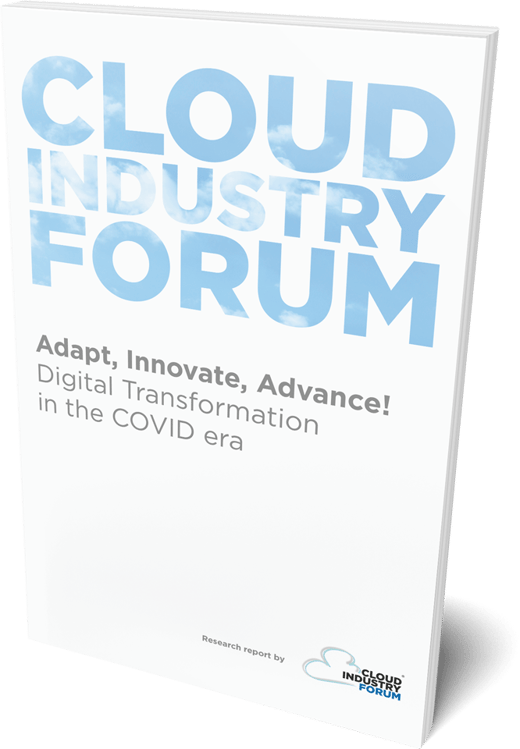 Adapt, Innovate, Advance!
Digital Transformation in the Covid era
The cloud delivered for over 90 per cent of UK plc when tackling the challenge of COVID.Cloud Industry Forum research finds that COVID put the Cloud to test and it passed with flying colours.